6 LEFT Lily and Lemon Morning Zest Protection Spell Bar Soap
Regular price
Sale price
$9.75 USD
Unit price
per
Sale
Sold out
Lily and Lemon scents combine to make a floral and zesty morning bar of soap, the perfect way to start your day with some witch suds. Atop the bar is sprinkled my own protection spell blend, apples, lemons, turmeric and mustard seeds, a little happy skin scrubby combo.
Mustard Seed has a long history of lore- it's even mentioned multiple times in the Bible! Used for protection, sometimes known as eye of newt- mustard seed is a powerful little seed and one of my favorites to use with spellwork. Mustard seed is also a great anti-aging tool, and easy on the skin so it's a wonderful addition to a bar of soap- as you use the bar, the herbs on top settle in and provide a light exfoliation agent for your skin. 

Keep in mind I'm just a Beach Witch, I know what works for me but what's whispered though the trees is just that- folklore. 
Beach Witch Bars are colored with cruelty free mica colorant and have a four food based oil moisturizing recipe guaranteed to keep your skin smelling fresh and smooth as butter!
Ingredients: walnut oil, castor oil, coconut oil, olive oil, full moon water, cruelty free mica, fragrance oil, protection spell blend contains dried apple, dried lemon, turmeric and mustard seed 
NOW IN 5oz BAR SIZE! 
Care Instructions

Keep your soap in a draining soap dish to get the longest use, do not let soap sit in standing water!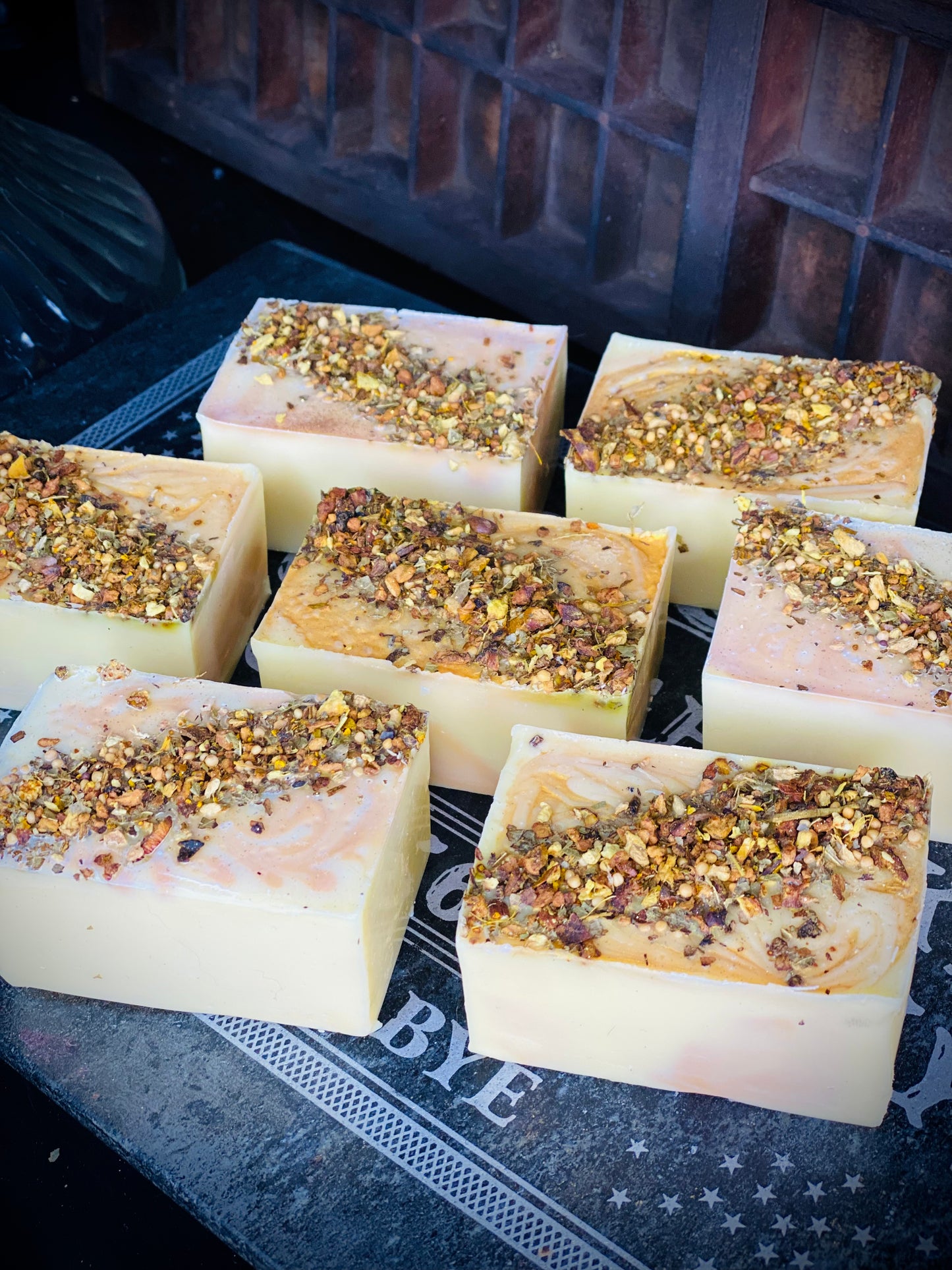 Shop Local
Beach Witch Bars is proud to support New England based products. Our oils, salts, herbs and stones are from shops in Rhode Island and Massachusetts. We are proud to support local small family run businesses and will continue to do so as Beach Witch grows.